How To Spot And Avoid Used Car Scams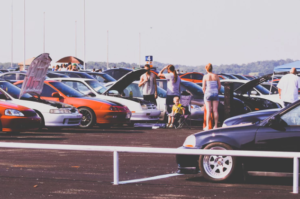 Is it time to purchase a car? Maybe you need a 2nd car for the family or maybe you have a new driver in the house who is ready for a car…whatever your reason, a used, or "new to you car" can be a great idea because:
It can save you money…

The previous owner has already paid for the depreciation.
Your purchase price and payments will be lower.
Insurance premiums are typically lower than a new car.
Registration fees are less.

They are more reliable – today's cars last longer, so it stands to reason that newer used cars should last longer too.
You can find certified, pre-owned cars that are guarenteed to be in good condition.
You can check on the hisory of the car you are considering through reporting companies such as Carfax and AutoCheck.
But, like almost anything else in life, there are things and people you have to watch out for when buying a used car…there's always the possibility of something being wrong with a use car, and sadly there are people who will try to cover-up or conceal the problems. So there is potential risk of being scammed when you're buying a pre-owned car.
Tips to help you avoid a used car scam:
One of the biggest types of fraud is the Odometer Fraud:  This is totally illegal! It used to be quite easy to turn an odometer back, making the car look like it has less mileage. You would think that in today's world of technology that it would be more difficult, but in reality it's not so hard…tech savvy people can reprogram a car's odometer with a fairly inexpensive device and software that is intended for legally recalibrating odometers that are faulty.

As the consumer you could discover this information by using Carfax or AutoCheck

Title Washing is a scam that hides the fact that a car has been salvaged…typically from disasters such as flooding. To wash a title, ypu simply transfer the car to another state that doesn't recognize the salvage brand.

As the consumer you could discover this information by using Carfax or AutoCheck

Phony Certified Used Cars…These cars are advertised as Certified Used Cars, when in fact they are not. Charging extra for Certified Used Cars is a common, legal and expected practice. In order to be able to use legitimate certified stickers, a dealer must be affiliated with a manufacture, but some independent dealerships will used fake stickers in order to charge more for the car.

As a consumer you need to validate that the dealership is actually  backed by a manufacturer.

Hiding Engine Problems is not difficult for a shady dealership to do…if a car is having problems with the engine, they can simply add diesel fuel or diesel oil to the vehicle and that will temporarily mask the problems.

As the consumer you should make sure any car you are colnsidering is checked out by an independent mechanic.

Car Scams from Craig's List...Craig's List can be a great resource for finding a used car, but there is a growing number of dishonest people trying to get your money dishonestly. Here are some things to watch out for, and if you suspect any of them are being used on you, move on immediately!

The seller is very impatient and wants to conclude your business as quickly as possible.
Your payment needs to be wired to another country, and Western Union is typically requested.
The vehicle is unrealistically underpriced.
The seller doesn't list a phone number.
The person you talk to on the phone refers to himself as an agent.

Fake Add-ons or Fees…If the price on the car seems to keep growing with fees and add-ons, check the vehicle invoice…if the suspicious charges are not on the the vehicle invoice, the dealer has added them to their invoice and they should either be removed or negotiated down.
Purchasing a used car doesn't have to be a bad experience as long as you use the consumer tools we have talked about and pay attention to things that feel like a red flag…just remember "If it looks too good to be true, it probably is."
Once you have selected the used car you want to purchase, give us a call at Whitcomb Insurance for your auto insurance needs. We love to sit down with our clients, and we would be happy to sit down with you, answer any questions you might have, whether it's about auto, homeowners, small business or life insurance. You can count on us to be totally honest and upfront with you!
Contact us or give us a call at 425-391-8731.