How To Prevent Identity Theft While On Vacation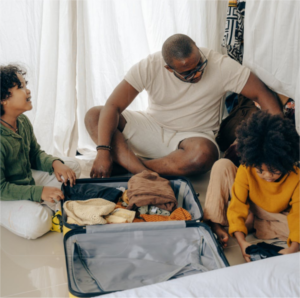 Summer is right around the corner, and you're making plans for a wonderful vacation…a vacation that doesn't include identity theft.
Identity theft is a real problem, and its occurrence is on the rise. It's been documented that in the year 2020 there were over 1.4 million complaints of identity theft in the United States, and consumers were defrauded of at least $56 billion.
Vacation time is a prime time for identity thieves, they understand that this is a time when you're more relaxed, your guard is down, and you are an easy target. So, while you're planning and packing, be sure to plan for the safety of your identity.
Don't let identity thieves ruin your vacation…
What's in your wallet?

Too many people carry too much in their wallet while traveling. If you use several credit cards, you don't need to take them all with you on vacation…choose 2 that you would like to use, and leave the rest at home. It's a good idea to contact your credit card company to let them know that you'll be traveling and where. Monitor your credit card activity while traveling, even if you are still in possession of it, thieves can use your card without having it in their hand.
Don't travel with your Social Security card.
If you carry cash, don't carry all of it in your wallet, divide it into groups and keep each one tucked away separate from the rest.
Protect your wallet from pickpockets by carrying it in zippered pockets, closed purses or next to your body.

How are you connected?

Beware of public access to the internet. Free internet in your hotel or at the restaurant down the street seems convenient, but hackers use these free connections too, and can easily grab your private information. If it's important that you access the internet, purchase a portable router that will allow you to set up your own personal and secure Wi-Fi hotspot.

Who's your friend?

Avoid posting about how much fun you're having on your vacation on social media. It's amazing how many people who aren't "following you" actually see what you're posting. When you post that you're out of the country, these unknown friends could visit and break into your home while you're gone. Post your pictures of the beach after you return home.

Where does your money come from?

ATMs are very convenient when you're running low on cash, but use the ones that have video cameras or security guards, such as the ones in banks. Unattended ATMs in public places are easy marks for thieves to plant skimmers that can steal your account information and PIN numbers that are stored on your card's magnetic stripe.

Who's collecting your mail?

Your mail is full of information you don't want thieves to get their hands on. The safest thing you can do is to have the Post Office hold your mail while you are gone. It's easy and convenient to set up.

Where did your credit card go?

Never let your credit card walk away in someone else's hands. Watching it get swiped through the card machine will eliminate the chance of someone copying or scanning it.
---
At Whitcomb Insurance we love to sit down with our clients, and we would be happy to sit down with you, answer any questions you might have, whether it's about auto, homeowners, small business or life insurance. You can count on us to be totally honest and upfront with you!
Along with great insurance options, we also offer Financial Services. You can count on us to be totally honest and upfront with you!
Contact us or give us a call at 425-391-8731.