The Best Ways To Get Homeowner's Insurance Discounts
The ache for home lives in all of us. The safe place where we can go as we are and not be questioned." – Maya Angelou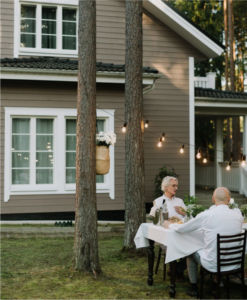 There's not a much better feeling than the one you get when you're enjoying your home, knowing it is fully protected in the event of a unforseen problem, yet knowing that you didn't need to "break the bank" for a good insurance policy…you were able to take advantage of some good Homeowner's Insurance discounts.
We're not suggesting that you cut corners in order to save on your insurance premiums, but rather to take advantage of possible discounts that might apply to you and your situation. Insurance companies offer these discounts to help you save money while getting great coverage for your home.
Whether your shopping for a new policy, or re-evaluating the one you have, ask this question…
Do you qualify for any of these Home Insurance Discounts?
Are you over 55? Many people who are over 55 or are retired are at home more during the day, lowering the chance of burglary, as well as be more quickly alerted to possible fires.
Have you considered bundling? Bundling your auto and home insurance together with the same insurer is one of the highest insurance discounts. Not only is it easier for you to keep track of your policies, but it should reward you with a nice discount.
Have you installed safety or security devices? Insurance companies like it when you are proactive and have things installed to make your home safer:

Fire extinguishers
Sprinkler systems
Deadbolt locks for exterior doors
Smoke, water leak, and gas leak detectors
Monitored fire and burglar alarms

Have you made any smart home improvements? Not all home improvements will get you an insurance discount, but there are some for older homes that will:

Shutters to protect your windows
Upgraded electrical, plumbing, and /or heating systems
Impact resistant roof

Are you claims-free? You are not the only one that is happy if you don't have to make any claims against your policy…your insurance company likes it too, and many companies will reward that with a discount.
Are you a new homebuyer? If you are a new home buyer or you are buying a new construction home, many companies offer discounts.
Are you a resident of a gated community or an HOA? Insurers like gated communities for the security they provide, and HOAs (Homeowners Associations) for the required maintenance standards they require. Some HOAs also have neighborhood watches or employ security companies.
Are you a loyal customer? Staying with the same insurance company for years may earn you a discount. Some companies may require that you are not only loyal, but also claims-free.
Are you a non-smoker? Smoking has been the leading cause of fires and fire related deaths in the past, is it any wonder that insurers would give discounts to non-smokers?
Have you considered increasing your deductibles?
Being a homeowner is hard work, but insuring your home doesn't have to be, give us a call to help you find all the discounts and savings that fit your circumstance.
All Insurance companies offer discounts, but they are necessarily the same, so check with your agent to see what you may qualify for.
---
At Whitcomb Insurance we love to sit down with our clients, and we would be happy to sit down with you, answer any questions you might have, whether it's about auto, homeowners, small business or life insurance. You can count on us to be totally honest and upfront with you!
Along with great insurance options, we also offer Financial Services. You can count on us to be totally honest and upfront with you!
Contact us or give us a call at 425-391-8731.