What Is Comprehensive Insurance And How Does It Work?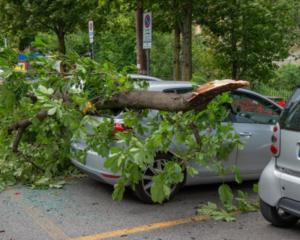 If you were going by the definition of the word comprehensive, you could think that Comprehensive Insurance means it is full coverage, but in fact, there is no such thing as full coverage insurance. Rather it is a policy that covers  situations other than collision. Example: if a tree were to fall on your car, your collision protection would not take care of the damages, this is where Comprehensive would come into play.
The important thing to note is that Comprehensive is not automatically on your insurance policy, it is optional coverage that all drivers don't necessarily add to their policy, but the greater majority of drivers do. If you have financed or leased your car, your lender may require that you add comprehensive coverage to your policy to protect their investment.
Situations Comprehensive covers…
Comprehensive Insurance covers events that are out of your control; if you hit something it's considered collision, but if something hits you, it would be covered by comprehensive, some people even call it "Bad Luck Insurance". It covers occurrences such as:
When Mother Nature strikes…floods, wind, earthquakes, lightening, hail or storms
When you hit a deer or other animal that causes damage to your car (this is not considered collision)
When a tree, a limb, or some other object falls on and damages your car
When rocks or other objects either fall from, or are kicked up from the road by another vehicle and damage either your car or your windshield (a very common type of damage)
Vandalism
Fire
Explosion or damage from riots (these seem like a bit of a stretch, but they do in fact happen)
What Comprehensive does not cover…
medical expenses
legal expenses
towing
personal property stolen from your car (check your homeowners' or renters' insurance for this coverage)
Should you carry Comprehensive Insurance?
Obviously claims for collision are far more frequent than claims for comprehensive coverage, and by adding comprehensive coverage you would probably have higher premiums. But what you need to keep in mind is that non-collision incidents, especially the ones that I have mentioned above, do occur, and if they do, will you need to pay for them out of pocket…If you have a newer or more expensive car, those costs could be a bit pricey. (Comprehensive becomes less necessary as your car decreases in value.)
So is comprehensive coverage right for you?
Give us a call at Whitcomb Insurance, we can help you make the right choice. Along with great insurance options, we also offer Financial Services, and would would be happy to sit down with you, help you decide what would serve you best, and answer any questions you might have. You can count on us to be totally honest and upfront with you!
Contact us or give us a call at 425-391-8731.