Easy Ways to Practice Boating Safety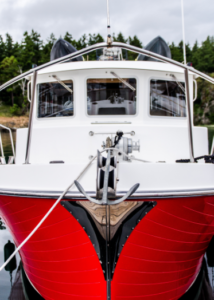 May 6, 2017 was the opening day of boating season in the Seattle, WA area, and although many people don't wait for the official day to launch their boats, once that magical day hits, lakes and rivers become summertime playgrounds for boaters.
It is estimated that there are about 74 million people in the United States alone who take to the water in a boat each summer. That's a lot of people in a lot of boats, which could result in a lot of accidents. That's why it's so important to practice good boating safety habits.
A report dated 2015 by the US Coast Guard showed that there were 4,158 boating related accidents, 626 of which resulted in deaths. These accidents were typically one of these 3 things:
Someone on the boat fell overboard
A boat capsized
A collision occured involving 2 boats, or a boat and an object.
These accidents result in millions of dollars of damage, either to property or personal injury.
The more expert a boater you are, the more you realize how important it is to follow some very basic but important…
Boating Safety Tips:
Pay attention to the weather

A current and accurate weather report can be your best friend. Avoid going out on the water if weather conditions are stormy.
Although you may start out on calm day, the weather can change quickly and drastically. At the first sign of changing conditions, it's time to get off the water.

Lifejackets, lifejackets, lifejackets!

The majority of all drowning victims are not wearing life jackets….
Lifejackets may not be the greatest fashion statement, but if you're wearing one during an accident, you'll think it's the best looking thing you've ever seen. Be sure to…

have plenty of them on board
have sizes that will fit all passengers (children included) correctly
be sure they are easily accessible
everyone should wear one!

Don't drink and drive a boat!

Alcohol is a huge contributing factor in boating accidents and fatalities…it affects your vision, judgement, balance and coordination. It's best to save your alcoholic beverages until after you have docked. Stay sharp, and stay safe.

Develop and share your boating plan.

Plan your trip, know where you're going and share it with someone. In the event that you don't return as planned, someone will know where to begin looking for you. Your plan could include:

Names and phone numbers of all those who will be on board.
Boat registration information…type and name of boat.
Itinerary.
Expected length of outing

Get educated.

Especially if you are a beginning boater, but even if you are seasoned…a boating coarse can teach you something new or remind you of something you may have forgotten.

Get your boat safety checked.

Did you know that the US Coast Guard will provide free safety checks? That's an awesome service, to have a skilled professional look over your vessel to make sure it is safe and sea worthy.
An extremely important part of boating safety is boat Insurance.
Boaters have special insurance needs, some of which you may not even be aware of. Enjoy this brief video, then if you have any questions about your boat insurance coverage or if you'd like a free quote, Contact Us at Whitcomb Insurance.