What Should You Do If Your Identity Has Been Stolen?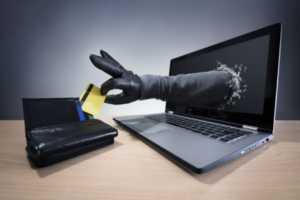 If you have ever had a credit card compromised or your identity stolen in any other way…what a nightmare! From getting credit cards cancelled and reissued, to disputing charges made on your accounts, to cleaning up your credit report, to reporting the situation to the police or the FTC, identity theft can be disastrous!
The damage it can do to you financially and legally can last for a very long time.
Even if you have been careful, you could still become a victim of identity theft.  As hard as you might try to protect your identity, theft can still happen…Identity theft is on the rise, in fact it's one of the fastest growing crimes in the U.S. today. The thieves are trickier, smarter, and more determined to make their living off of your identity. According to the FTC's (Federal Trade Commission) estimate, approximately 9 million Americans fall victim to this crime every year.
So what should you do if your identity has been stolen?
Begin by contacting the businesses, banks and financial institutes that you are aware of where the fraud has been committed. Talk to their fraud department.
Place fraud alerts with the credit reporting agencies. The 3 major agencies are TransUnion, Equifax and Experian. They might be able to give you information about your identity that you aren't aware of. You should request them to put a fraud alert on your account that will be in affect about a year. Also request copies of your credit report from all 3 agencies, because they may sometimes contain different information from the others.
Work with one of the credit bureaus to monitor your account to ensure your credit doesn't continue to be fraudulently accessed.
Prevent businesses and credit bureaus from posting any damaging information against your credit score that has been caused by the theft.
File a report to the FTC, you can do so at this link: IdentityTheft.org. They will be very helpful in filing the report and also help you find recovery resources.
There are other agencies you should report the fraud to also:

If your driver's license is involved, contact the DMV (Dept. of Motor Vehicles) for your state.
If your social security number is involved, contact the FTC and the Social Security Administration.
If your Passport is involved, contact the Passport Services Department and the U.S. State Department.
For tax fraud, contact the IRS and the FTC.

Once you have compiled all the information on the fraud, contact the police to file a report.
Let your friends and family know that you are an ID theft victim, so they can be aware of someone fraudulently trying to use your identity. It will also help them look out for their own personal identities.
Change your passwords that are associated with your identity fraud. Don't use the same password for multiple accounts and be sure they are considered "hard" passwords.
You may end up having past due debt from the theft, so be sure to contact any debt collectors. They will need to see verification of the fraud, so be prepared to send them such things as police or credit bureau reports.
In my next blog post I'll share with you what you should do if your information is part of a data breach.
Give us a call at Whitcomb Insurance, along with great insurance options, we also offer Financial Services, and would would be happy to sit down with you, help you decide what would serve you best, and answer any questions you might have. You can count on us to be totally honest and upfront with you!
Contact us or give us a call at 425-391-8731.