Tips for Safe Traveling in Your RV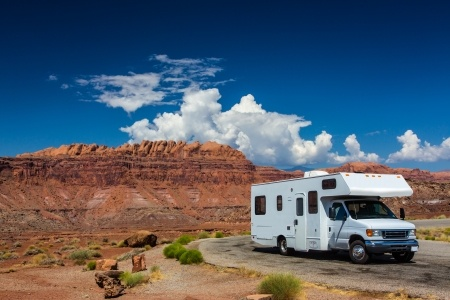 Every year you see more and more RV's (Recreational Vehicles) on the road. What a great way to take your family on vacation…
It's an affordable way to travel, especially with a family.
You can take the family dog along and not have to worry about making special arrangements for him/her.
There are campgrounds in abundance, and if you're visiting a friend or relative, you can park your mobile home in their driveway.
Your family can spend more time together, giving you more opportunities to communicate and enjoy one another.
You can sleep in the comfort of your own bed.
You can enjoy your own food.
No more rest area restrooms, unless you just need to get out and stretch your legs.
An RV can be used for long or short trips.
There are many choices of RVs to choose from, so you can get the one that fits your needs and wants the best.
…and so much more.
Safety Tips for a more enjoyable RV trip: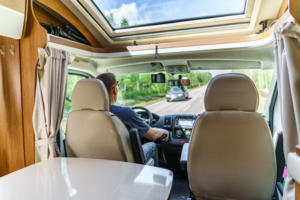 Driving and traveling in an RV is not the same as driving or traveling in a car…so to make your trips more enjoyable and safe, we'd like to share these few tips with you.
If you are a new RV driver, take your rig out for a few practice drives, so you'll feel comfortable behind the wheel. You'll also want to practice backing up, passing other vehicles and maneuvering in traffic and "close" places.

Practice braking…there is a lot of momentum behind a larger RV, it takes longer to slow down or stop. Understand how RV air brakes work, that they may delay slightly when they are applied, so don't push on them harder or faster.
Practice turning corners, again, because of the size of your motorhome you'll need to approach the corner more slowly than in a car, don't arc the motorhome in the opposite direction of where you're going in order to make the turn, this only confuses other drivers and by swinging out, could cause an accident.

Know how tall  and how wide your rig is. You will be driving under bridges and in confined spaces, having this information can help prevent some of the most common accidents.
Always conduct a pre-trip safety check:

Check the tires
Make sure your propane detectors and smoke detectors are working
Check all brake systems: air brakes, towing brakes and parking brakes
Check under your RV for any kind of fluid leak
Check all fluid levels
Inspect your propane tank for leaks, and have it checked regularly
Make sure your stove and oven are not lit

Check road and weather conditions before hitting the road…it's easy to do on the internet
Make sure your RV has good insurance coverage.

Does your insurance cover towing? How far will they tow you?
Does it cover your trailer?
Are the contents of your RV covered in case they need to be replaced?
Are your liability limits within your state's requirements?
Enjoy this short video produced by the RVSEF (Recreational Vehicle Safety & Educational Foundation), which will help you back your RV up easier and safer. If you have any questions about your RV insurance coverage or if you'd like a free quote, Contact Us at Whitcomb Insurance.