What You Need To Know About RV Insurance
The RV lifestyle is a happy marriage of convenience and constant adventure." -unknown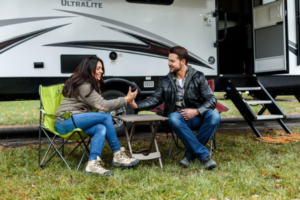 Your RV (Recreational Vehicle) represents fun, freedom, adventures and the making of lots of great memories. It doesn't matter whether it's a motorhome, 5th wheel, travel trailer, or pop-up camper, it is your home away from home for different periods of time throughout the year.
The question on so many people's minds is…
Do you have to insure your RV?
If your RV can be driven, it must be insured.
If you tow your RV behind a car or truck, it may not need to be insured. Travel trailers and pop-up trailers may be covered under your auto insurance or homeowners insurance. The safe thing to do is talk to your insurance agent so you have the protection you need.
If you took out a loan to purchase your RV, more than likely your lender will require you to insure it. Nevertheless, insuring your property is always a good idea.
Specialized coverage for RVs….
Vacation Liability – If your RV insurance includes comprehensive and collision, it may pay for bodily injury as well as property damage while you are camped at a temporary place. (Ask your Insurance Agent about this)
Personal Effects – If you want your personal effects covered in your RV policy, you may have to add them in, unless your belongings, while in your RV, are covered in your homeowner's policy.
Insurance (Garaging) Address – In other words, what address do you provide the insurance company in order to determine rates. It used to be that your home address was all that was needed, but things have and are changing. It depends on where you store it when you're not on the road, how much time you spend in it traveling, or if it's parked in different campsites for periods of time throughout the year. This can be confusing for most of us, so be sure to get it right by talking to your insurance agent.
Toad Insurance – Toad refers to the car you may tow behind a motorhome. If by chance you are involved in an accident and your "toad" vehicle is damaged. It may not be covered by your RV insurance, so it definitely needs its own policy.
Loss of Use – If your RV is totaled in an accident, this could be a type of emergency coverage. In the event that his happens when you are traveling and far from home with nowhere to stay, your loss of use coverage could come in very handy…it can help cover unplanned expenses and/or temporary housing while the situation gets sorted out.
Custom Equipment – Many people are quite content to drive their RV with the amenities it comes with. But if you're someone who likes to add "bells and whistles," keep track of how much you have added so you can insure  your entire investment.
Full-timers Liability – For those who live full time in their RV, you'll need more comprehensive coverage. Full-timers liability will pay for injuries that someone, other than you, may sustain while in or around your RV.
Storage Coverage – If you store your RV in a storage facility while you aren't traveling, you may consider buying storage coverage, which will protect you while it's there and not being used.
Your RV is your special place, make sure you protect it with the right insurance.
---
At Whitcomb Insurance we love to sit down with our clients, and we would be happy to sit down with you, answer any questions you might have, whether it's about auto, homeowners, small business or life insurance. You can count on us to be totally honest and upfront with you!
Along with great insurance options, we also offer Financial Services. You can count on us to be totally honest and upfront with you!
Contact us or give us a call at 425-391-8731.