Tips To Help Prevent Theft During The Holidays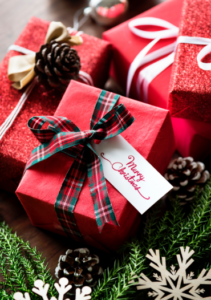 The holidays are a magical time of year as everyone thinks of and plans for giving to those they love and those who may be in need. It's a time of selfless acts, kind thoughts and good feelings. Unfortunately, for some, it's a time for disappointment and sadness, because there are those, (burglers and thieves), who use this time to determine who's home and who's not home, or who's gift filled car is unattended or unlocked, so they can relieve you of as many packages as they can. The really sad thing is that some of the packages they take aren't valuable money-wise, but are treasures for the recipient, and they will probably just get thrown away.
Although there is no way to protect your gifts or other valuables 100% this season or any other time, there are some things you can do to make it harder for the thief steal from you.
Tips For Preventing Theft:
The most important thing you can do is to use good, common sense…make sure you lock your doors and windows, in your home and in your car. Teach your kids the importance of doing this also…they have a tendancy to leave doors unlocked.
Keep gifts and valuables out of sight as much as possible. If you have been shopping or delivering to friends and relatives, don't leave your packages in plain sight in the back seat, someone who may not have been planning on robbing you may get the idea to do so as they are passing by and see what's in your car. Things are much safer in the trunk. If possible, park in lighted or monitored areas.
If you're traveling for a couple of days or a couple of hours, a lighted home will deter many theives.

Try to make your home not look vacant by leaving lights or even music on.
If you will be gone for a few days, have your mail delivery either stopped or have a neighbor pick it up for you
Having a security system is always a good investment.

Avoid displaying large amounts of cash when you are out shopping…people are watching, and those are the kinds of things they notice. If you prefer to use cash rather than credit cards and you need to carry a good amount with you, divide it into smaller amounts, so when you get it out to pay, it will not be obvious that you're carrying a large sum with you.
If you leave the car unattended – just for a minute – don't leave it running, thieves are watching for opportunities like that and will be quick to make their move.
A New Kind of Theft…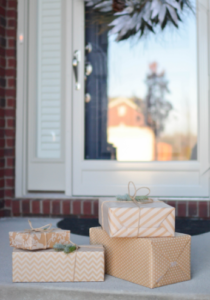 Over the last couple of years, with people doing more and more online shopping, "Porch Pirates" have become more and more in the spotlight…they are bolder, sneakier and craftier. These thieves follow delivery trucks, cruise neighborhoods and snatch packages at every opportunity.
Comment from a real peerson:
"UPS delivered packages to us on Saturday. Unfortunately, they were not there just an hour after we received notification of delivery."
You can deter porch pirates by doing a couple of things…
Have your packages delivered to lockers such as the ones Amazon provides.
Have them delivered to a Post Office Box.
Have them delivered to a local store where you can pick them up.
Install a doorbell camera so you can keep an eye on your porch. When movement occurs at your door, you will receive a warning on your smart phone, and you can alert a porch pirate that you're watching.
Join with neighbors who will watch each other's porches and pick up your packages if you're not going to be there for delivery.
If possible, have any packages you have ordered require a signature for delivery.
If, after all you have done to prevent theft, and someone steals from you anyway, the best thing you could have done is to have good homeowners, rental or auto insurance that will replace the things that were taken or damaged.
At Whitcomb Insurance we would love to sit down with our clients, and we would be happy to sit down with you, answer any questions you might have, whether it's about auto, homeowners, small business or life insurance. You can count on us to be totally honest and upfront with you!
Contact us or give us a call at 425-391-8731.